So last weekend there was the second WClub webinar for the new collections. There was 3 of them released this time. I'm not going to really go into anything about the Jem dolls. I honestly cannot ever remember watching this show or not, and while their interesting, I wasnt looking forward to seeing yet another Jem like released in this webinar. I have a Color Infusion that uses the same body, so I might end up hunting down some Jem shoes, but other than that, Im just going to look this over.

I was hoping for this collection to be a little different then what I kept seeing with the Poppy Parkers. Im not into the 50-60 era look. I did preorder the "The Young Sophisticate" Poppy because the more I looked at her coat and dress I wasnt seeing this and someone pointed out the dress looked like a target dress so Im going to bring her home.
Left to Right: Irresistible in India,
Spicy in Spain, Sweet in Switzerland, Pretty in Polynesia,
&
Joyful in Japan
While I will agree...these dolls do like "Barbie's of the World"...there are a couple things I really like. For one the only doll I preordered was India. First she had the
Bergdorf Goodman screening that I have come to love so much, and I dont have a nice tan Poppy. Im not sure about the dress. Its really lovely, but I might not keep it. Spain was just a kinda miss...I like her cat eye shape, but the rest was just lost to me. Switzerland was cute, but I already have a redhead poppy from the workshop so I passed. I dont really like the screening on the Polynesia, but I love her necklace and sandals so Ill find those later. My last dilemma was Japan. I loved her kimono but wished she had sandals and dark hair...even a nice dark brown would have been nice. Not blond. I really like this new screening they used on her, though her lip color needs to be a different color. Maybe later they will do something again like it, so I passed on her.
The next collection was the "classic" collection with them looking back at the dolls before and incorporating it into this line. Retro but modern. Im really actually kinda getting sick of this, but to each its own. I know everyone has their styles and tastes, its just not for me.
Left to right: Nostalgia Dania Zarr, Splendid Jordon, Captivating Anja, Ambitious Kesenia, & Polished Korinne
I didnt choose any of these girls. Dania - Again the high ponytail with swept tucked in bangs. I already have girls with this hair style...I dont want another. Her makeup was very well done though. Jordon - Actually has some really lovely makeup for her skintone. I liked her necklace so much but again as a whole there wasnt anything that make be need her. Anja - I dont like the hairstyle, I feel she really needed some kinda of stonger lipstick or something. The dress is pretty, but plain and I hate the fringe they used on the bow...it just makes me crazy. Im always afraid I'll unravel stuff like that. Kenenia - Again nothing really drawing me to her. I do utterly love they used a darker color on the inside of her mouth to accent the part of the lips and her teeth. Her hair is pretty but eh, and I really just feel its lacking in something in the outfit...it feels too bulky to me with the shape of the coat/dress. Korinne - I love the blouse...I have one of those skirts and again her makeup was ok, but nothing really drawing me in. I felt a few of them the upper lash they drew was just way way too long for the eye. I can understand where the vibes coming from, but nothing really made me need to bring anyone home from this. I am curious to see whats to come later on.
The only other doll that I did end up preordering was the Event doll. I was a little bit shocked it was another Dania in the same webinar...I kinda wish it was a different one and then like having her at the next one to kinda switch it up. I think thats really my only complaint about it.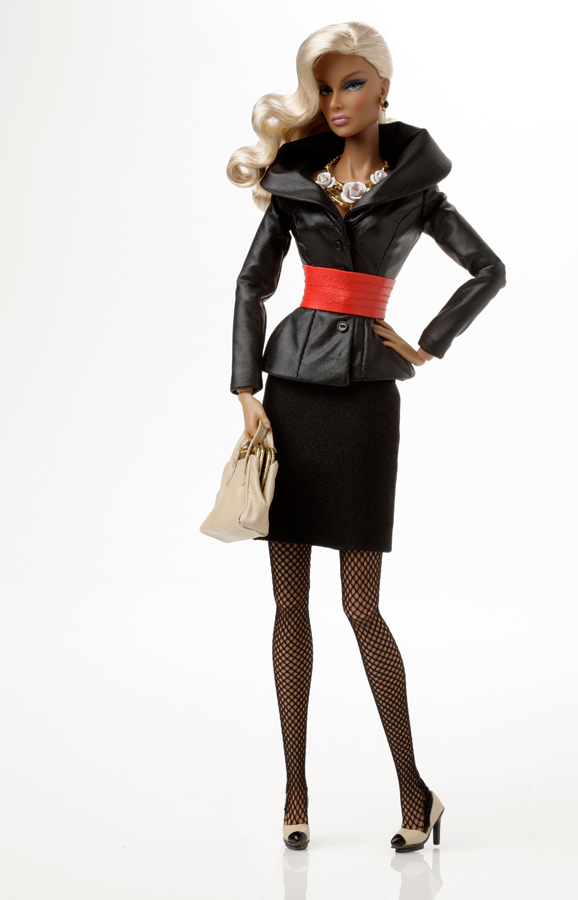 I find this funny that after I told myself no more tan girls (I brought so many home and then didnt have characters for them that I had to let them go) Im bring home 2 tan ones...haha! This Dania does remind me alot of the Optic Class Dania. Im not really a fan of pop collars, but this all really works well. I always love some red and black so that's something that can never go wrong. Again theres the rose necklace, but in a different color which I really like alot more. I love the purse and shoes. Everything for her goes so well together. I can wait to have her home and hanging out with my Obsidian Vanessa. Those will be some fierce ladies XD