Here a couple things I got this month.
I got this
outfit
on ebay. It was 58 bucks and was seriously worth it. Its all black velvet and well put together. The top is once piece with little decorate snaps on the back that make straps. One of them I cant seem to resnap, so Im going to see if some of the velvets in the way. The skirt is two pieces. The white ruffle and the overskirt you tie on. The white ruffle on the sleave runs about halfway up the arm. I ended up putting a tshirt on under it to just protect if the top stains at all. Ill eventually get her a body skin, but temperately it will work. (poor Sabers eye fell in XD but i fixed it)
The wig is from
Licht
. I thought it was going to have a little more blue in it, and both Heather and I got this wig style. I feel that for my girl I should have/from now on need to go with a 9-10 for Saber. I feel it falls more flat at her scalp. So there was a bunch of wigs I kept seeing that I like. I have really come to love gradient wigs >_> I bought this...but right now no one I have looks good in it :/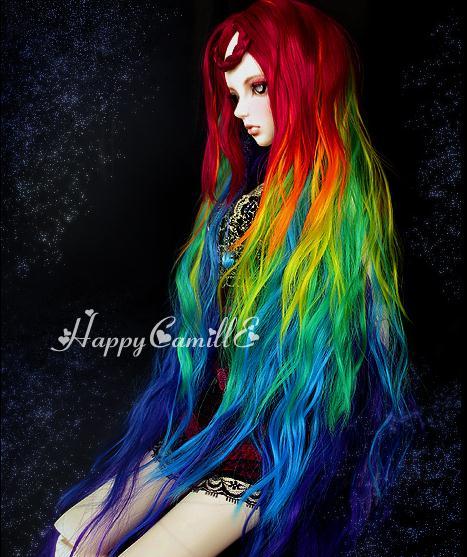 Theres also some wigs I found on Crobidoll that I might just break down and get sometime. I really like this
blue mix.
I might also ask some wig makers if they can make that super light/sky blue color that Saber looks good in :/
Now for shoes!

Then for 1/6 scale I bought these their just not here yet but you can get them here